Depending on your location, a handheld unit may very well be a great first radio for you. I usually have one sitting on my desk as I work, scanning through the local repeaters, and if I run out to do errands in the car without a mobile rig, I'll toss it in the car. Even the most deluxe handhelds are reasonably affordable, and you can get a perfectly useful dual band handheld with accessories for under $50. If you're interested in a more deluxe route, I'm sure the people at any of the big ham radio stores would be happy to set you up, and I suggest you just call them directly, let them know your experience level and location, and follow their suggestions.
Handhelds are not powerhouses — they usually pack around 5 watts, and their antennas are less than ideal, but I've worked a repeater that's about 45 miles away with one of mine. You can't count on that, though — I'm on a hill and so is the repeater in question, so conditions are excellent in this case.
If you are out in the flat parts of the country and/or a sparsely populated area, do yourself a favor and consider moving on to the mobile/base radio section. That way you'll have the power and, even more important, antenna to reach out to someone. (This is one more situation where knowing local hams is a huge benefit — ask!)
Handhelds don't work well inside vehicles, but you can get a magnetic mount mobile antenna for the roof of your car and use your handheld as a mobile unit. It won't have the power or convenience features of a dedicated mobile unit, but it will work. You can use that same antenna as a base antenna at home — find something metal on your roof to stick it on, and you're in business!
Handhelds also don't work well indoors. I can hear my club repeater on a handheld inside the house, but I've never been able to get enough signal out to transmit successfully to it.
Baofeng UV-5R
>
It's hard to imagine buying more technology for $25 – $30 than the famous (and infamous …) Baofeng (sometimes "Pofung") UV-5R. It's a dual-band handheld that covers the 2 meter and 70 cm bands. It will also work on the Family Radio Service channels, but not legally; too much power and not "type approved" for those frequencies.
This package comes with the charger base, and a belt clip. There's also an earpiece/microphone in the package. I've never unwrapped that earpiece — it looks pretty sketchy to me, but for all I know it's a triumph of thrifty engineering.
Programming the radio without a computer is an exercise in frustration, both receive and transmit audio are marginal, the Chinese-written instructions are hilariously incomprehensible, and the supplied antenna is puny, but the radios are so popular that there are easy and free or inexpensive workarounds for all those issues. See below for accessories.
More $$, a Little More Power
You can get a bit more "oomph" while still staying in the low end of the price spectrum with the Baofeng BF-F8HP. As you might suspect from the picture, it's very similar to the UV-5R, but with a bit more power and a larger battery. The BF-F8HP claims 8 watts, the UV-5R 4 watts.
A Real Antenna …
A great radio with a bad antenna is a bad radio. A "pretty good" radio with a "pretty good" antenna is a pretty darned good radio, and that's what you end up with when you combine the Nagoya NA-701 antenna with the Baofeng radios. About $20 — read the reviews and avoid the counterfeits.
When you get your Baofeng, set that antenna they put in the box aside — put it somewhere where you'll forget where it is — and screw on the Nagoya. You'll be much happier.
Programming Cable — a Must
While they've improved from the early days, the instructions that come with your shiny Baofeng still read suspiciously like someone in Shenzhen plugged the Chinese text into Google Translate then copy/pasted the English translation. Oh, well — Baofeng enthusiasts have created lots and lots of English language support. Go to miklor.com for lots and lots of information.
Still, programming the radio from the radio's keypad is just not a fun way to spend an afternoon — especially if you have big fingers like mine! It's just so much easier to download the free (free!) CHIRP software, plug in the programming cable, and set up everything the way you want it.
You do need a special programming cable — it's not just USB, there's a chip inside the big USB plug you see above and the other end plugs into the microphone/headphone jacks on the radio. You can save about $10 by buying a cable that uses a generic chip, but don't.
Using the free CHIRP software and the programming cable, you can program your radio as fast as you can type in the frequencies and pull down a few menu items, such as the "Tone Mode" and the "Tone." It will set the offsets automatically for you.
Here's what my CHIRP setup for my "sits on the desk" Baofeng looks like:
Using CHIRP is pretty simple, but beginners get tripped up by the columns that read "Tone" and ToneSql." Set the "Tone" frequency to the repeater's listed tone. That's the tone you'll send to the repeater to unmute it. Leave ToneSql blank – that's sort of the opposite of Tone; your radio won't unmute until it hears whatever tone you set there. For 99% of normal applications, you don't need that function.
Speaker/Microphone – "Nice to have", not "need to have."
These are handy when you want to keep an ear on the radio in a noisy location and don't want the radio blaring full blast on your hip. When our ham club does exhibitions at schools, the rooms are always noisy, so I have mine clipped on to hear the kids talk on our 2 meter station.
You can spend a little less for a Baofeng brand speaker/mic, but my experience with those is that they take the already marginal Baofeng audio performance and make it even worse.
Grown-up Radios
The "big three" ham radio manufacturers are Yaesu, Icom, and Kenwood. Each brand has its fans. The FT-65R above is Yaesu's entry-level HT. With this one, you take a big step up in durability, audio quality, dependability, design quality, build quality, and ease of operation, but you also enter the world of proprietary software and accessories — more $$$. The good news about ham gear is that, in general, you do get what you pay for.
I'd love it if you bought any of these major brand radios through my links, but before you hit "buy", check prices at the stores such as Ham Radio Outlet, GigaParts, and DX Engineering. They often are a better deal, and those stores are important to the hobby. Win, win!
Neither ICOM nor Kenwood seem to be in the entry-level handheld dual band market, but ICOM has just released a VHF-only radio, the IC-V86.
Shoot the works!
Here are the top-of-the-line handheld transceivers with lots of additional features, such as digital voice capability, built-in GPS, APRS, and more. One even has an optional camera and can send pictures via APRS to other hams.
The head of our club's tech group just picked up one of these Yaesu FT-2DR's and raves about it. It can send and receive System Fusion digital voice. It automatically detects if it is receiving FM analog or digital voice. It has a GPS built in, as well as APRS, so when APRS is switched on you can track it on an APRS map, as well as use it for ham-to-ham text messaging and everything else the APRS system does. If you buy the (proprietary accessory ….) MH-85A11-U microphone, it has a camera built in that lets you send snapshots. It will even, no kidding, find your car in the parking lot.
Definitely check Ham Radio Outlet, GigaParts, or one of the other "real" ham suppliers for this one — they often have substantial rebate offers.
There's no such thing — and probably won't be — as a "D-Star and Fusion" digital voice radio, so if you're going digital, you'll have a make a choice about systems. That's down to your preferences regarding your local repeaters and what's available in your area. As of today, digital voice is nowhere near as popular as analog FM, so you needn't rush into it, but if you do, at least you know the issues.
The Yaesu FT-3DR has a color display, though it is not quite as spacious a display as the FT-2DR. Its list of features is, as near as I can tell, a match for the FT-2DR's and it sells for a little less. Here's Yaesu's feature list:
Compact Design and Reliable 5W RF Power Output (Selectable 5W/ 2.5W/ 1W/ 0.3W)
C4FM Digital V/D Mode, Voice FR Mode, Data FR Mode and Conventional FM Mode
700 mW of audio power with C4FM clear and crisp audio quality
Dual Band Simultaneous Receive (V+V/ U+U/ V+U/ U+V)
Built-in Bluetooth Unit enables the easy hands-free operation (NEW!)
Highly visible 320 x 240 dot matrix Full-Color TFT Touch Panel Display
Band Scope Function enables monitoring up to 79 channels centered around the current VFO frequency with high-speed (NEW!)
CAM (Club Channel Activity Monitor) function (NEW!)
System Fusion II compatible such as AMS (Automatic Mode Select), DG-ID (Digital Group ID), and Smart Navigation functions
WiRES-X Portable Digital Node compatible
Built-in 66ch High-Sensitivity GPS Receiver
1200/9600bps APRS Data Communication
Snapshot Feature
Voice Recording function for the received and transmitting voice and audio
Built-in On/Off Timer, Automatic Power Off (APO) and Time-out Timer (TOT)
micro SD Card Slot (up to 32GB)
IPX5 Rating Water Protection
Here's Kenwood top-of-the-heap HT, which is a tri-bander — 2 meter, 1.25 meter, and 70 cm. It handles analogue as well as digital (D-Star) voice.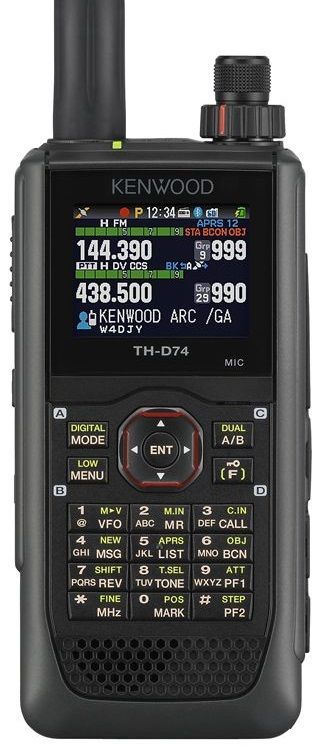 That one is presently listed for $599.95.
At this writing, ICOM has discontinued their former top-of-the-line radio and are promising a new model to come. You can sign up to be notified of its arrival at GigaParts.